Pyrocumulus
Family
C
Type
Cumulus
Occurrence
Any locations in which large fires, especially wildfires, have occurred
Altitude
600-9000m
Formation
Convection created by fire
Precipitation
Can generate showers and storms
Potential Hazards
May develop into pyrocumulonimbus, which can produce more fires through lightning strikes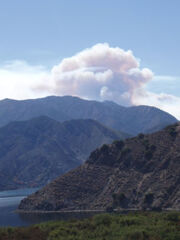 Ad blocker interference detected!
Wikia is a free-to-use site that makes money from advertising. We have a modified experience for viewers using ad blockers

Wikia is not accessible if you've made further modifications. Remove the custom ad blocker rule(s) and the page will load as expected.